This is a brief report on what the data for the housing market in Massachusetts looks like in real terms. Market data is typically reported in nominal terms which can be misleading because it combines changes in housing values with changes in the value of the dollar. Correcting for inflation removes changes in the dollar as a factor and gives a more accurate picture of how housing values have changed. This report is based on the published data of the Massachusetts Association of Realtors, though it should be noted that the S&P/Case-Shiller Index is a superior data source.

The Massachusetts Association of Realtors released their data for October 2011 on Tuesday, November 29th. While the raw prices were provided in nominal terms, for this report they have been adjusted for inflation using the CPI Northeast Urban numbers available at http://www.bls.gov/cpi/ Adjusting for inflation produced the data represented by the graphs below. Prices for January 2003 and earlier have been estimated by applying the earliest reported median from The MAR, February 2003, against the S&P/Case-Shiller Index for the Boston area. Suggestions for improving this estimate are welcome.



Full Price History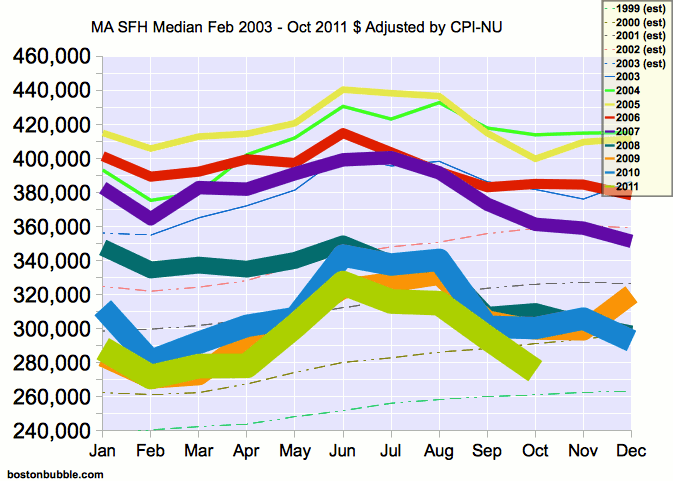 Change in Median Price From One Year Earlier, February 2004 - October 2011



Seasonal variations are removed by comparing prices from the same month in the prior year.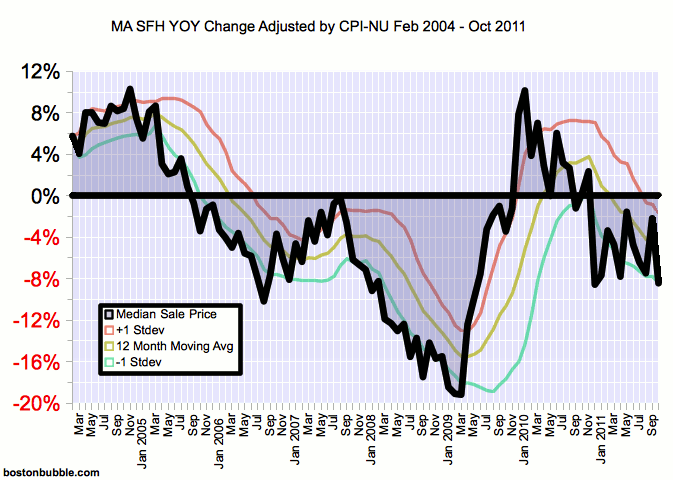 Some observations:



The real decrease from October 2010 to October 2011 was 8.43%.

Real prices are once again lower than the same month in every year in the time period covered by The MAR. Additionally, the real median has plummeted back below the estimates for prior years and is now the lowest it has been since the estimate for 1999. This marks the first time that prices have returned to 1999 levels since then.

Prices have resumed their downward trend after a period of twelve consecutive year over year increases. Those were the only year over year increases since August 2005 and they all occurred consecutively and after the most recent renewal and expansion of the home buyer tax credit. The moving average turned negative in April for the first time since the end of the tax credit. Price declines are once again the norm after being briefly interrupted by buyers being misled into mistaking one of many backdoor bank bailouts for a good buying opportunity.

Prices are now 37.57% below the peak set in June 2005. This is the result of a 26.42% decline in nominal housing prices and a 15.15% decline in the purchasing power of the dollar. Note that this ignores seasonality.

The cumulative price decline from the beginning of the MAR's data (Feb 2003) is 22.52%, which is an annualized decline of 2.90%, again ignoring seasonality.



The S&P/Case-Shiller Index for Boston is likely superior to the data above as it corrects for many flaws that are inherent when using only the median price. The S&P/Case-Shiller Index also has the advantage that futures contracts can be traded against it, thereby offering an unbiased insight into where housing prices are expected to be in the future. It also has more extensive historical data available. The MAR data was used for this report mainly out of inertia and might be replaced with the S&P/Case-Shiller Index in future reports.

As usual, please do try this at home. Double checking of the math used to construct the above graphs and analysis is strongly encouraged in order to help ferret out any errors. The data was derived from the following sources:

The text of this post and the associated graphs are Copyright 2011 by bostonbubble.com with all rights reserved, except as stated here. You may reproduce each graph individually or the text of the entire post as a whole (including graphs) under the Creative Commons Attribution-No Derivative Works 3.0 Unported License. You may additionally scale the graphs to fit your work. Alternatively, if you remove the bostonbubble.com signature from the bottom left hand corner of the images within this post, those modified images (and only those modified images) can then be distributed under the Creative Commons Attribution 3.0 Unported License. In all cases, attribution should be made via a hyperlink to http://www.bostonbubble.com/forums/viewtopic.php?t=3823 or http://www.bostonbubble.com/ Quoting excerpts of the text is also allowed provided that the quotes would normally fall under fair use. To request other terms for reproduction, please post your request in the original thread at http://www.bostonbubble.com/forums/viewtopic.php?t=3823

The latest version of this report can be found at http://www.bostonbubble.com/latest.php?id=ma_inflation

- admin